Wake Board Boat Rental Coeur d'Alene
ToyboxCda has the ultimate Coeur d'Alene wakesurf & wakeboard rental boat! How can you surf when you were three hundred miles from the ocean? Our wake/surfboat gives you inland surfing at its best. Inland surfing is the latest craze, and no one else on Coeur d'Alene Lake offers a wakesurfing boat. Thats right, we offer Wakeboard boat rentals on Coeur d'Alene Lake.


Wake surfing is fun and easy! It's easy to learn, and best of all, with just a few tries you can be surfing an endless wave!!! Just fill the ballast, set the cruise, and surf your wave!
Boat Rental Coeur d'Alene

If you're looking to catch some big air, our crisp, large wake and rock-solid wakeboard tower will give you lift off. Our Boat has plug-n-play ballast system, an adjustable wake-plate, and a cranking stereo system with tower speakers so you can ride to your favorite tunes. Want to try something else? Just trim out the wake and enjoy waterskiing, kneeboarding, or inner tubing.

Rent our wakeboard boat on Coeur d 'Alene and we give you FREE wakeboards, skis, surfboards, wakeskate, kneeboard, 3 person innertube, and other toys for every rider size and ability so you can have a blast on CDA Lake!

If you're looking for Coeur d'Alene boat rental, at ToyboxCda, we offer superior service, the best experience, the best boat, the easiest rental process, and ensure that your day will be filled with safe, fun, unforgettable memories.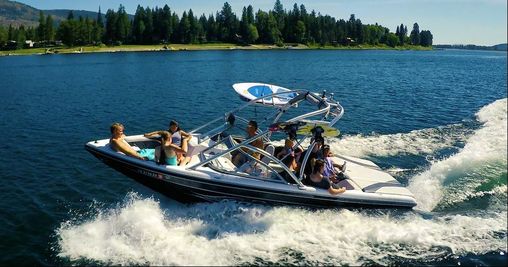 Ever wanted to be out surfing or wake boarding on a hot sunny North Idaho day? Well now you can surf and wakeboard all day long with a ToyBoxCda Coeur d'alene boat rental! With a wakeboard/surf-boat, you can have fun in the sun with your family and friends. Relaxing in the sun on the swim-deck is nice, but surfing, kneeboarding, skiing, wakeboarding, and tubing is the ultimate fun for the whole crew on lake Coeur d'Alene. Rent our boat and you and up to 12 friends and family can enjoy the fun, so choose our wake board boat rental and get out in the water. With our Coeur d'Alene boat rental you'll carve turns, try new tricks, fly high, or simply glide along the endless wave on beautiful Lake Coeur d Alene.