BOAT RENTAL CDA DAILY RATES
ONLY $675 per day!
2 day rental is $1200 $600 a day Save 10%
3 day rental is $1700 $567 a day Save 15%
5 day rental is $2500 $500 a day Save 25%
7 day rental is $3100 $443 a day Save 35%
(weekly rate is not displayed in booking box, but will show proper rate when renter reserves 7 consecutive days)

Want $300 in freebies?
How about all water toys included at no extra charge!!! That's right, our boat rental price includes wakeboards, surfboards, inflatable innertubes, knee board, wake skate, even a waterskis!!!
We have toys for all ages, just pick out all the ones you would like!

Want rates as low as $380 per day?
Check out our DEALS page.
Silver: Purchase 5 days (not necessarily consecutive) ONLY $2750 ($550 day)
Gold: Purchase 10 days (not necessarily consecutive) ONLY $4500 (450 day)
Platinum: Purchase 15 days (not necessarily consecutive) ONLY $5700 ($380 day)

$100 nonrefundable booking deposit is required at the time of booking. This is NOT an additional fee.
$500 damage deposit is required prior to Rental. Damage deposit will be held in our bank account until the boat is check back in. If equipment is not been damaged your damage deposit will be returned to you. If damage has occurred, The deposit will be processed as well as any damage exceeding the deposit held in trust. Customer is liable for all damages to the vessel. Damage means cracked, torn, broken, stained, or in need of anything more than routine cleaning. Normal wear does not constitute damage, but we take pride in our equipment and ask you to return it just as it was when you received it. Our insurance decides if there was negligence and we reserve the right to pursue the responsible party for damages. Please call at the first sign of damage or malfunction, unattended malfunctions can cause serious damage and high costs. If the renter causes damages that result in loss time, Toyboxcda is not responsible for compensation. With a ToyBoxCda boat rental, small pets are allowed with a $25 nonrefundable deposit, pets are not permitted on upholstery. We accept Visa, MasterCard, PayPal, cash or check. 5% cash discount. Rental Prices do not include sales tax or gasoline.
Life jackets are provided for all persons on board, you may bring your own light jacket if you prefer.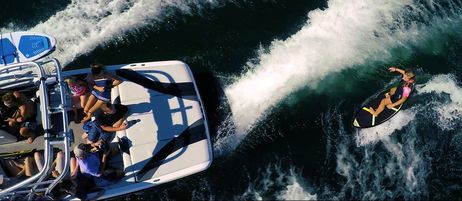 Hours-
Meet at dock between 9-10am
Boat returned by 7pm